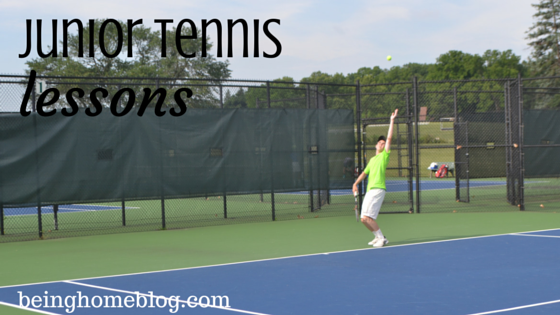 I had the opportunity to travel with Luke to a big tournament a few weeks ago. It was the USTA section championship for his age group. He won the singles and doubles titles, either of which would have been great. Coming home with both titles was beyond his expectations but not beyond what he knew he was capable of.
Interestingly, this tournament means more in terms of ranking and his future in tennis than placing third in the state high school tournament. But he definitely got more notoriety in the neighborhood and in the press for the high school tournament. Funny.
I love to watch Luke play anytime but it was especially enjoyable because he was so consistent and confident in this tournament. He was focused on each match and what he had to do. I noticed that nearly every opponent was frustrated that Luke was just making great shots. They would just say to themselves out loud "what am I supposed to do against that?!" Which was kind of fun.
As the boys are getting older, they actually give credit to great play rather than beating themselves up for not winning every point. That's what I mean by the title of this post ("Junior Tennis-Growing Up")
Luke played the final against one of his best friends who lives on the other side of the state. For all my complaints about the elitist nature and inaccessibility of junior tennis at this level, one thing I love about it is the good friends he's making. Social media and texting keep them connected between tournaments.
His opponent has been mowing down the competition and winning most matches easily in the past few months (including placing second in the state high school tournament) so Luke was looking forward to a shot at him. He knew he had to play well with limited mistakes and he was able to do that.
Luke squeeked out the first set in a tie-breaker (9-7), was down 1-2 in the second when they had to stop for rain. Then came out guns-ablazing after the delay to win 6-3.
People ask if I get nervous and I really don't. I'm so happy for him that he won the tournament but truly it was such a good match that either one of them could have walked away with the trophy and I would have been proud of both of them. As in, "thanks for the entertainment."
I discovered that I would rather watch Luke play a harder opponent than one that he can beat easier who puts on a show (drama, questionable line calls, beats himself up after every mistake). Even if Luke's winning handily, I never enjoy watching those kids play.
The other thing I don't enjoy is watching kids tank and it happens in tennis more than almost every other sport except golf (Norman/Faldo anybody?). Even when it's in Luke's favor, ugh. Don't like seeing it.
So, congratulations to Luke and Michael. I really mean it.
Full disclosure, Luke played in the B18 L3 the following weekend and did about as well as he expected. Actually, he would have liked to have won a competitive match against another friend (and arch nemesis since they were little) but I think he was pooped from the previous weekend.