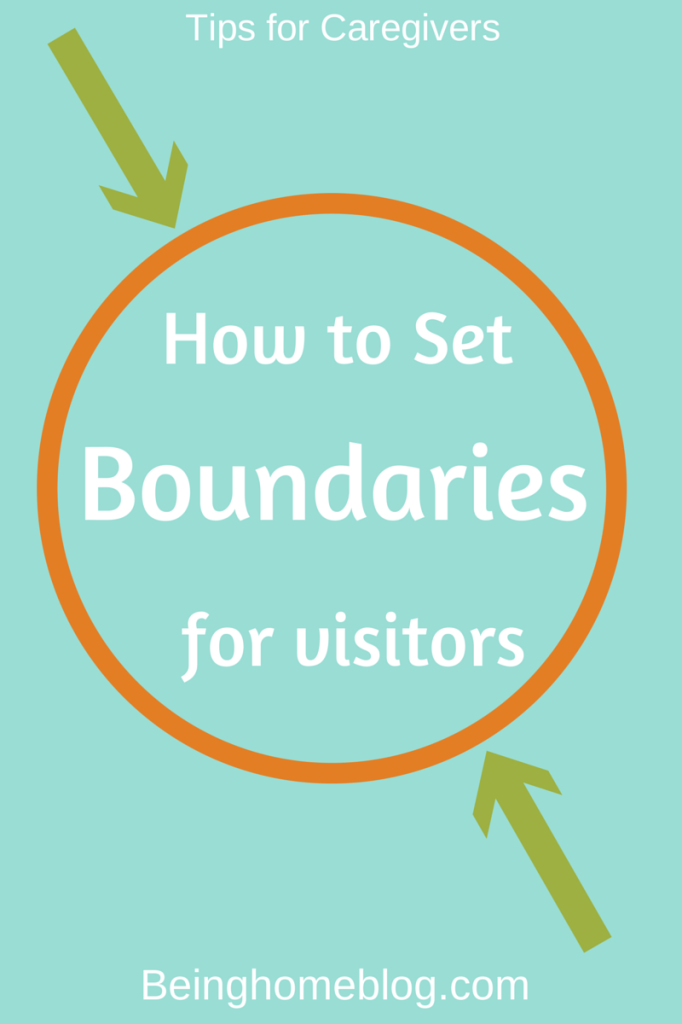 One element of taking care of a sick or elderly family member in your home is the new (and seemingly constant) stream of visitors your family is likely to encounter. From old high school classmates to extended family members, the uptick in company can be both a help and a hindrance. The difference is in establishing guidelines and boundaries that balances independence of your loved one with your own family downtime and sometimes privacy.
It may take a few weeks (or even months) to figure out what boundaries will work best for your circumstances but you should be unapologetic about setting them.  You may need to change things up as your routine evolves, seasons change or schedules fluctuate.
I can share some limits and guidelines that work for my household (at the moment) but your unique family dynamics, routines and personalities will determine what works for you.
1. "Please Call Ahead"
This is pretty obvious but you would be surprised at how unaware people can be about the routines of others. Drop-ins sometimes interfere with meal times, rest times or other visitors.
In my case, my mom and cousin live on my street and I rely on (and welcome) them to pop in without calling just about anytime. That pretty much goes for any of my family members who aren't offended when I can't sit and visit with them or if I use their company to run a quick errand, catch up on some housework or just enjoy some alone time. If it ever became a problem, however, I would just send out a text or email asking these people to call ahead and I'm sure they wouldn't take offense.
Others (extended family and friends who aren't as close) have been great about calling to see when it's a good time to visit my aunt and/or family.
If the family member you care for has a phone of her own, it's important to let people know that visits should be scheduled with you. Although my aunt is almost always available, certain times and days are more convenient than others for her and for me, which she isn't necessarily aware of.
In the first few days when everyone in my family wanted to see my aunt, they tended to come at once and I really didn't want the responsibility of managing visiting schedules so I just let it happen. Even now, people occassionally show up at the same time or one after the other. It's only a problem when my aunt kind of gets trapped for hours and can't use the bathroom (because she's a little self-conscious about struggling to stand). When that happens, I text the crowd and ask them to make an excuse to walk over to my mom's house so my aunt can have a quick break.
Since my husband is an extrovert, he loves to greet extra people when he pulls into the driveway after work. This might not be the case for every member of your family and it's important to be sensitive about their need for solitude, quiet or privacy. If you or your spouse (or children) need to unwind after a long day, create that buffer for them and restrict visits during the transition time.
2. Be specific about visiting hours that are convenient
What times work best for you will be different than what works best for my family. When people call, I'm clear about the window of time that's convenient for their visit.
I try to be very specific. "It's best if you come after 10:00 and leave no later than 1:00" for example. If I say, "between 10 and 1:00 would be fine", they may think that they can come by 1:00 and stay for a couple of hours after that. See the difference? Likewise on the other end of the day, I tell people, "I need you to say your 'goodbyes' by 7:30".
I can't emphasize enough how important it is to be completely honest about your needs. It avoids so much conflict and resentment. This is not the time to worry about whether people will get mad at you or get their feelings hurt.
3. No need to host a party every time someone visits
If I felt like I had to clean or prepare a spread every time my aunt gets company, I would be resentful and worn out.
My house is relatively picked up (as much as it can be with 4 teenagers) and it definitely could be cleaner but I don't worry about that when people come to visit my aunt.
It might seem rude but I also don't feel the need to put out snacks and play hostess when people come. Everyone close to me understands this. I typically don't keep sugar beverages in the house because they tend to disappear. My boys have no self-control when it comes to junk drinks so we don't have them. There's no way I can guess the personal preferences of different visitors so I don't try. I offer water and even then, most people help themselves.
This might seem inhospitable but people really understand that because I'm providing round-the-clock care, I don't need to host a party every time they want to see my aunt. If I felt like I had to, I would have to be more restrictive.
I hope these tips help. It's impossible to predict how caring for a family member in your home will affect your routine and it's best to be flexible to accommodate yours and your family's changing needs.
I would love to hear what type of strategies you use to establish boundaries for visitors when you're caring for a loved one in your home.