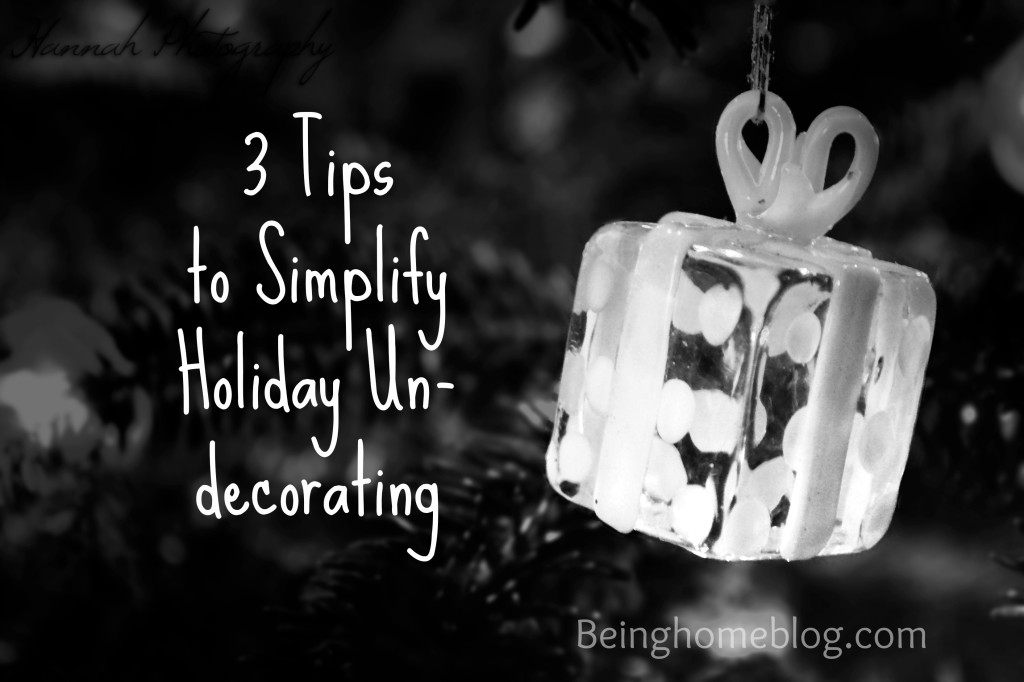 Whether you take the tree down the day after Christmas, New Year's Day or wait for Epiphany or Orthodox Christmas, un-decorating can be a daunting, overwhelming task. Here are a few things you can do to make the chore less "Grinchy" and still allow you to enjoy the best parts of holiday cheer.
1. Keep Your Boxes Handy
This tip might be obvious to some of you but it took me a few years to figure out.
I used to pull out all of my Christmas decoration boxes from the attic at one time, decorate the house,  then store the empty boxes back in the attic. Our attic has a pull-down ladder and a low ceiling so you pretty much have to crawl around up there to retrieve anything. This wasn't convenient and made the task a little too "all-or-nothing".
Now I store empty boxes in the basement or garage which provides easier access. DUH.
As a BONUS, since we live in a small house, this provides excellent hiding places for gifts.
2. Small Steps
I take the decorations down over a few days or even a couple of weeks. I remove the things first that feel most like clutter or that I find myself stepping over (like the train under the tree).
My son is sentimental about the various stuffed Christmas toys we've received over the years. He doesn't play with them but he loves to see them out. I don't especially love these and they feel a lot like clutter to me since my children are older now and DON'T play with them. They are the last things out of the attic and the first things back.
I took our candles out of the windows today since a few have burned out and one keeps falling off the ledge. Since we still have twinkly lights in other parts of the house, I can still enjoy that comfy evening glow that only holiday lights can provide.
Basically, I'll take the lights down last. It's amazing how bare the house feels when everything is put away.
3. Remove Ornaments but Leave the Lights
In keeping with tip #2, leaving the tree up and the lights on it doesn't mean you can't put away the ornaments.
While everyone usually loves to pitch in with decorating the tree, the task of un-decorating it always falls on me so I tackle the ornaments first. I leave the lights on so we can enjoy them a little longer but the most time-consuming part of the job is behind me.
Another obvious strategy is to purge decorations and ornaments that you no longer love or use. This will make both sides of the chore easier next year.
Do you have any tips that make the task of cleaning up after the holidays any easier? Please share it in the comments.