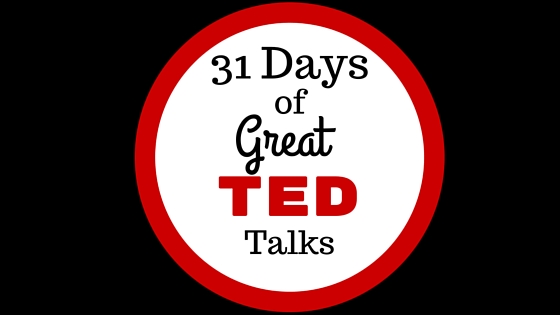 Welcome to my version of the 31 days series. (Check it out if you want to see what people are committing to writing about during the month of October).
For the next 31 days, I'll be curating my favorite TED talks over the years. I don't know about you but when I take the time to watch a TED talk or two, I always wonder why I don't make time every day to watch just one. They always inspire or make me think in a different way.
Each day, I'll write a super short summary about an intriguing, inspiring, thought-provoking, or otherwise jaw-dropping TED talk.
Really, they usually speak for themselves, don't they? Hope you follow along.
Day 1: Creativity and Innovation in Education with Sir Ken Robinson
Day 2: The Happiness Advantage with Shawn Achor
Day3:  Bring on the Doodle Revolution with Sunni Brown
Day 4: Unlocking the Power of Introverts with Susan Cain
Day 5: What we Learn When a Neuroscientist Suffers a Stroke with Jill Bolte Taylor
Day 6: Calling all Cyber Grannies with Sugata Mitra
Day 7: The Prison Funnel with Alice Goffman
Day 8: Tangible Hope for an Abundant Future with Peter Diamandis
Day 9: The Amazing Things Kids Can Do With Some Tools and Space to Create! with Gever Tulley
Day 10: How We All Benefit From Human Trafficking with Noy Thrupkaew
Day 11: OOPS-Went away (TBD)
Day 12: Hackschooling with Logan Laplante
Day 13: Touch Can Alleviate Loneliness with Helena Backlund Wasling
Day 14: The Case for Statistics Above Calculus in High School with Arthur Benjamin
Day 15: How to DISRUPT Higher Education with Shai Reshef
Day 16: Bring on The Learning Revolution! with Sir Ken Robinson (YES AGAIN!)
Day 17: Definition of Success and Other Life Lessons with Coach John Wooden
Day 18: #write29days, sorry.
Day 19: How to Speak So People Will Listen with Julian Treasure
Day 20: Confessions of A Comedian With Depression with Kevin Breel
Day 21: How to Cure Alzheimer's with Samuel Cohen
Day 22: How To Respond When You're the Subject of A Viral Game with Kevin Bacon
Day 23: Transparency (or not) with Morgan Spurlock
Day 24: Out of town
Day 25: Sunday-Rested y'all. This challenge is getting wearisome.
Day 26: We Have Waged A War on Work with Mike Rowe