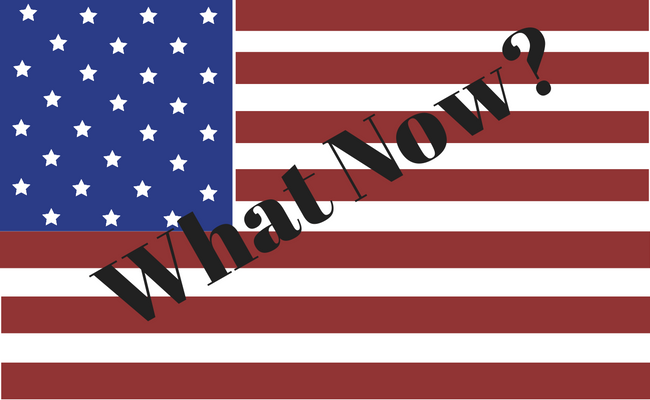 I'm stunned but not surprised if that makes sense. When some were so sure that there was NO WAY IN HELL that Trump could possibly be the next president, I worried that there WAS A WAY in this country.
I feared what some wouldn't admit out loud but would freely express in the privacy of the voting booth.
When the no-brainer, game-overs were not ending Trump's game, I knew it could be possible. But I'm still in shock.
Here we are. Thoughtful people are wondering what they can do.
My son, who voted for the first time and who might have written in Harambe had the GOP selected a human, asked a few times last night, "What are we supposed to do?"
Truth is, I don't know. I have no idea how to convince my friends who are truly and systemically invisible under a Trump presidency (you know, minorities, non-Christians, women, girls, immigrants, the poor, the jobless, sane people) that this country or the world is safe.
I don't feel safe.
But here's what I plan to do in the next few days:
Besides medicating myself with all the leftover Halloween candy in the house and praying the Rosary incessantly (there is palpable calm and peace there), I'll be….
Keeping the TV off. I've had enough of the chaotic ratings-chasing, soap-selling, vertigo-inducing "news" media that helped create this mess. Clearly, the talking heads and experts don't know any more than I do. They did not see this coming.
I don't care how it happened. It happened. I'm filtering and censoring what plays in the public spaces in my home. It's not informative and it's not entertaining.
Second, I'll do my best to encourage civility in the family. We are all on edge and stressed about this terrifying  and depressing turn of events. Last night found us snapping at each other.
I'll try to be positive and calm and see if that rubs off. I'm hoping my kids (or Jodie) will make me laugh about something. See exhibit A, above.
Third. I'm declining to engage about this topic in the next few days, except to the extent that my kids need to talk about it to calm their own anxiety.
Outside of my family, no offense. I can't talk about it. It's too depressing. But really, what is there to say? Most people I know are reasonable and we all feel the same so do we really have to pontificate? No.
It sounds selfish and maybe it is but I need to regroup. It's my way of staying out of the soup of despair. Total self-preservation move. Eventually, I'll reengage but I'll wait for the aftershocks to settle.
Finally, I'll encourage my kids to double down on their gifts and interests and not to rely on gatekeepers, institutions or conventions to move them forward.
Two political parties were disrupted last night (though, if you read this prophetic piece by Naval Ravikant, it was really one). Get used to disruption and maybe take Jay Samit's advice.
It's time for me to go dark and quiet for a while. #blessup.