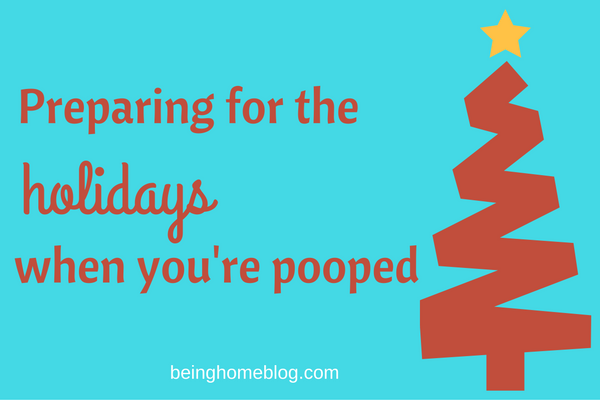 Spaghetti Wednesday  is our favorite holiday around here. Mark was finally walking without crutches. It's the first year since 2014 that I wasn't also taking care of my aunt so I was happy to host the dinner for the 21st year in a row.
It was a late night and then a low-key, us-only Thanksgiving but I was wiped out. No doubt, the four previous months of intense caregiving contributed to my fatigue but I honestly didn't expect it.
The question is: how to prepare for Christmas? It's easy for me during Advent to prepare spiritually. I have no trouble slowing down and putting off the rush and crush, but when everyone around you expects holiday activity, it's a little overwhelming.
I stopped sending cards a few years ago. It was getting to be a chore that I no longer enjoyed. The kids got ornery about posing for photos. It's difficult to genuinely send "best wishes, peace and joy" when you're resentful (never of the people, just the activity). So I don't. I still think about and pray for people. I give others credit for continuing to send us cards. I still enjoy seeing the photos every year.
I love christmas lights in the house but Mark always takes care of the lights outside. The sweetest neighbor offered to help with that but we declined the offer. Mark was able to do most of his usual light hanging. My brother went up the ladder to hang the big wreath on the side of the house.
To be honest, Mark welcomed the non-strenuous activity, the weather was pretty mild and he finished everything outside in a couple of hours over two days.
Inside, I've just been taking my time and getting one project/area out at a time. I have the time and have enjoyed doing it at a leisurely pace. Little Mark is elf-like. I have referred to him as joy boy, which is still true. He's always up for holly and jolly. I find myself waiting until he's home for certain tasks just because they're more fun with his help.
So, my advice for facing the holidays when you're tired or overwhelmed is to abbreviate and get out one thing at a time. You'll probably realize that a little bit of glow is enough.