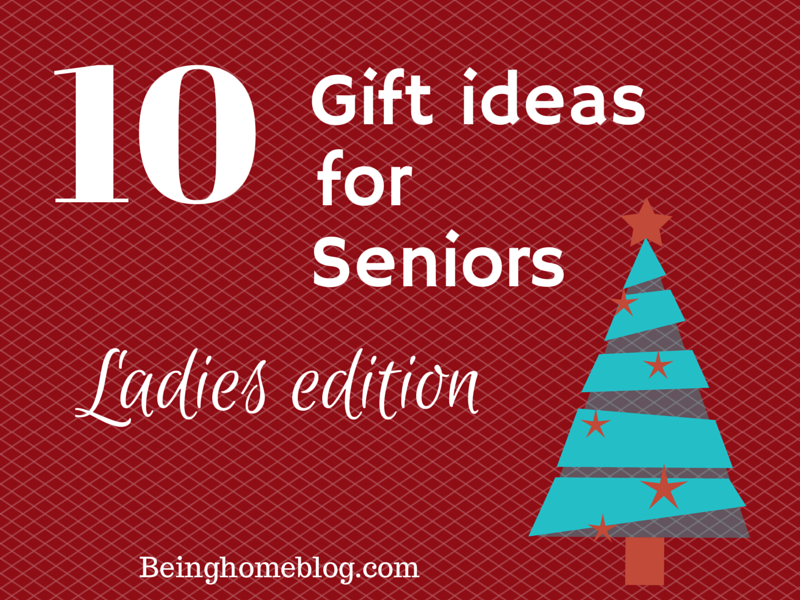 I'm painfully practical and would be the first to discourage anyone from giving stuff to people who don't need it.
Since taking care of my aunt, however, I realize that she loves to receive cards, letters and gifts. I'm sure her joy is derived from being remembered more than the physical object. She's been a giver all of her life.
So who am I to limit potential joy-especially at the holidays-for givers and receivers, alike? I think I have a pretty good perspective now and can offer some suggestions for gifts that are personal, economical AND practical.
Whether you're loved one is independent, in assisted living or living with you or another relative, this list should give you some ideas for each situation.
1. Fleece Anything
Now that the temperature has dropped, fleece provides a measure of warmth and comfort no matter how old you are. I replaced the linens on my aunt's bed with fleece sheets and a throw and she loves them.
She never knew such comfort existed and I'm insanely jealous every time she gets all cozied up in her bed. (My own fleece sheets need to be replaced).
Fluffy fleece socks are also a huge hit in my house.
Finally, you know how nursing homes are always SWELTERING? If my thermostat is set above 68°, I get too hot. This is a little too chilly for my aunt so a sweater and sometimes gloves, keep her comfortable. The gloves were my mom's idea and I do feel a little guilty but I just can't crank up the heat. If your loved one still lives at home, the cost of cranking the heat up could be an issue and the gloves might be a welcome comfort.
2. Easy-to-fix meal and a visit
If your loved one lives alone, proper nutrition and loneliness could be an issue. Recent studies suggest that the mortality risk from loneliness and decreased social interaction is comparable to that of smoking and twice as dangerous as obesity.
Malnutrition is a common problem among seniors. An estimated 60 percent of adults aged 65 years and older who visit an emergency room are either malnourished or at risk of malnutrition and only 1 in 4 of those were previously diagnosed as malnourished.
One meal a week won't cure the problem but dropping off 3-5 homemade, easy-to-prepare meals could make a big difference for both issues.
Multiple single-serving meals can be prepared and stored in containers, frozen or refrigerated with instructions for thawing or microwaving.
Committing to regular visits will allow you to monitor any sudden health, safety, mobility, environmental or cognitive issues that might need to be addressed with the person or family members.
3. Box of cards, stamps and personalized stationary
Although writing can be difficult as people age, many seniors love to keep in touch the old-fashioned way.
Providing a variety of cards for different occasions will minimize the need for excessive handwriting if it's an issue but still allows a person to keep in touch with people they love and are thinking about.
A box could include addresses and dates to remember like birthdays, anniversaries and upcoming events like graduations.
If the person still has the ability to write more than a few lines and enjoys it, personalized stationary is a great gift.
4. Monthly Housecleaning Service
You can arrange this to coincide with a visit if the person is uncomfortable with strangers being in her home. You should always be sensitive to safety issues when arranging for any service providers.
If you don't get a commercial cleaning service, you can ask around for referrals.
Most professionals will charge a little more for the initial cleaning (which can be a great gift, in itself) and then reduce the price for routine maintenance of the rooms/services that are most needed.
This is an ideal gift for anyone who has too much stuff unless it's impossible to clean around. Then you should consider a visit from a professional organizer or purger.
5. Photo Gifts
Photo mugs and photo calendars make great gifts. My aunt drinks a cup of coffee every morning and she always pays extra attention to a mug with Kate's baby face on it. I like the idea of the calendar because it's consumable.
6. Classic Television Shows on DVD
We all know that nothing is on TV, yet it's how most seniors pass the time. If operating a DVD player isn't an issue for your loved one, consider a television classic like "Gunsmoke" (Is there anyone cooler than Marshall Matt Dillon?), "The Andy Griffith Show", "The Beverly Hillbillies" or "Leave It To Beaver", to name a few.
Maybe the person can handle something a little more dramatic, "Downton Abbey" is excellent and dramas like "The West Wing", "L.A. Law", "The Practice", "Hill Street Blues" or "E.R." are classics.
7. Lawn Care and/or Snow Removal
Whether provided by you, one of your children or a paid service provider, outside maintenance is a huge problem for many seniors who still live at home.
8. Single Serving Coffee Maker
I'm not a huge fan of the hassle and expense of individual serving cups but people love the convenience of those single serving brewing systems.
One of my aunt's greatest pleasures in the morning is being able to enjoy a hot cup of coffee now that she doesn't have to prepare and clean the pot. She just wasn't able to manage it any longer when she was on her own.
Single serving type instant brewers involve less preparation and less clean-up than automatic drip coffee makers.
If you are going to gift this, make sure you also wrap up a healthy supply of coffee "cups".
9. Rotating delivery of essentials
Admittedly, this is a weird one. One thing my aunt worried about when she lived on her own was running out of the things she used daily (paper towels, tissues, toilet paper, Efferdent, liquid soap, supplements and V-8, to name a few).
She kept a healthy supply of these things in the closets and called it her "larder".
If you know a senior who also worries about running out of things and can physically manage a delivery (can get to the door and manage a package-my aunt wouldn't have been able to handle a larger package), you can arrange for Amazon to deliver these type of things to them. If not, you can make a weekly or monthly run yourself for her necessities.
If you're planning to use Amazon, it's definitely worth getting the Amazon Prime membership (for either yourself or the person you're buying for) since shipping will be free for most items and there are other benefits that go along with it.
10. Handwritten Cards and Notes
Letter writing is definitely a lost art but one that everyone I know appreciates. If you commit to writing a letter to your loved one-say, once a month, you might be surprised that it's just as much a gift to you.
*Disclosure: This post is littered with affiliate links. If you make a purchase through any of the links, I receive a small commission at no additional cost to you. I appreciate it. Either way, I hope you got some good ideas from the post.