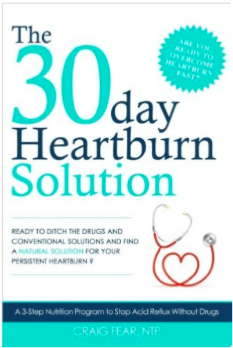 Kate has suffered from chronic, sometimes unbearable, heartburn for nearly 3 years. I'm guessing the sudden onset was hormonal and chemical. As my most adventurous eater, it's been depressing for both of us.
I talked to her pediatrician about trying to alleviate symptoms with food. When I mentioned avoiding gluten as an experiment, she dismissed that with a speech about gluten-free being a popular fad and how gluten-free only helps people with Chron's disease or IBS. And anyway, even a trace of gluten in the manufacturing process could trigger symptoms in the truly allergic. In short, the doc discouraged us from trying this. She rattled off the typical list of trigger foods (spicy, tomotoes, carbonated beverages-Kate doesn't drink those, etc.) and suggested that Kate avoid those. Since Kate was down to eating eggs, potatoes and antacids and still was experiencing symptoms, the pediatrician agreed to order some tests.
Kate was scoped (no evidence of damage or distress), poked, prescribed Nexium, Zantac supplemented with Gaviscon and Tums and tried to manage as best she could for the next 2 years.
A friend told me that her teenage daughter noticed improvement in her heartburn symptoms after going gluten-free so it sparked my interest in that route again.
I turned to Amazon and found "The 30 Day Heartburn Solution" by Craig Fear. The reviews were encouraging. (I've never seen a book on Amazon with no 1 or 2 star reviews). Most reviews are from long-time heartburn and acid reflux sufferers who were pain-free after implementing the plan laid out in the book. Craig Fear wrote the book after curing his own chronic heartburn.
Fear designed an incremental plan to stop acid reflux through nutrition, basically avoiding the typical Western diet. It's well-researched and explains why antacids (prescribed and OTC) contribute to the problem and are problematic long-term. The book is well-organized and thorough and lists all the foods you can eat under the plan. Approved foods include meats, dairy (if tolerated), eggs, nuts and seeds, vegetables and fruit and berries less frequently.
Kate noticed significant improvement just a couple of days into the plan. The first 2 weeks of the plan calls for eliminating all grains. Her willingness to try new foods in order to keep from feeling like a starved rabbit helped her get through the first couple of weeks.
After two weeks of grain-free, you can reintroduce non-gluten grains (corn, rice, oats, etc.). During this stage, you're also encouraged to eat cultured and fermented foods to restore the natural acidity and health of the digestive system.
Cultured foods without added sugar are hard to find (sugar can be inflammatory and throw off the ph balance of the gut). Fermented foods in the grocery store (sauerkraut and pickled things) are packaged under high heat (which kills most of the beneficial bacteria). I found a simple recipe for sauerkraut that's delicious and plan to try some other fermented vegetables. The cultured foods are a little trickier but we'll track some down.
It's hard to tell whether sticking to the plan 100% for a while would completely cure Kate (restore her digestive tract to allow her to enjoy any food any time~or even problematic foods occassionally without suffering). At her age, I feel like she's old enough to decide whether to eat a certain food and suffer the consequences. Even when she eats a food that triggers symptoms, they are milder and short-lived.
One thing I learned is that we automatically blamed foods like spaghetti, pizza and tacos on the tomatoes or spice for Kate's heartburn after eating them. There's as good a chance that the culprit was the noodles or flour tortilla in those cases. Since some form of grain (usually gluten) is a part of nearly every meal, and in our mind, those foods are bland when served plain, I never considered that they were causing the problem.
One unexpected benefit that I noticed after Kate was on the plan for a couple of months was a decrease in the severity of PMS symptoms. When I pointed it out, she thought so too.
I highly recommend "The 30 Day Heartburn Solution" if you or someone you know suffers from chronic heartburn or acid reflux disease. It's worth a try.
Notice: This post contains affiliate links. If you make a purchase through a link, I receive a small commission at no additional cost to you. Thanks for supporting the blog and I hope the book helps.